FALLEN THOUGHTS Art in nature
Filed in Fallen thoughts | Posted by Satya on August 29, 2011
---
Creation 2012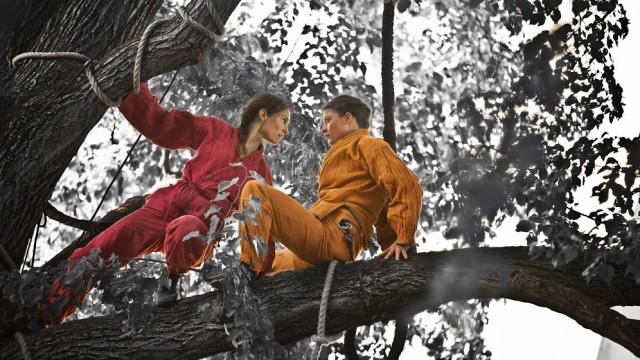 A world of your own, a thought of your own, a place of your own
from where you seek an encounter, something to share, while losing yourself.
A leap into the unknown, the uncertain, into the depths.
And then … discover, long for the other … there …. on the other side
Wondering which path you are now on and where it will lead you.
recognition, admiration, intimidation.
Too confrontational, too close and too early?
You return safely back to the familiar
to that place for yourself
your  own thought
your own world
Concept
'Fallen thoughts' symbolises in a visual form thoughts that fall, people who fall, situations you encounter, and all from a different perspective.
The members of the audience lie next to each other on the ground in a circle around the trunk of a big, strong, tree. They look up into the crown of this large tree. There is life in this tree.
There are characters sitting in the branches and one by one they fall from the tree, but remain suspended just above your head. Like dead animals, they do not move. Like bats they hang on the branches, like geckos they stick to the trunk, like cats they run over your legs and like moths they fly past you.
It is a kind of game in the air, an experience where everything is viewed upside down. The inverted truth of a reality.
One moment the artists are moving as light as a feather and the next they remain clinging to the trunk and climb up or down. Encountering each other in the air, creating a game that the audience can see as it looks up. The interplay between the characters is a relational exchange like that between sisters, friends, competitors and rivals. A passing flash of light generates a sudden reaction from the mover. It is a sort of pursuit. These ingredients create a mystical atmosphere.
The interaction with the audience lying on the ground is a part of the performance. The actors use the people on the ground, watching them, touching them and walking on them like cats.
A dynamic in sound and movement, like a spectacle that can be observed from very close up.
Music comes from on high. Amidst the branches sits a musician.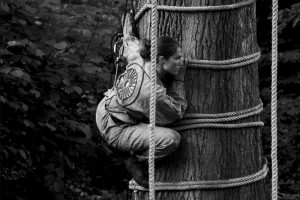 Cast
Concept, choreography and dance: Satya Roosens
Created with dancer: Estelle Delcambre
Stand-in: Femke Luyckx
Music: Ananta Roosens (violin, trumpet & loops)
Scenography: Kurt Demey
Technic and rigging: Yves Fauchon
Light director: Dries Mees
Costumes: Elena Werner
Co-productions : L'Abattoir/Chalon dans la Rue, Chalon-sur-Saône, France and Theater op de Markt/PC Dommelhof, Neerpelt, Belgium
With help from : CNAR Citron Jaune / Ilotopie, Port Saint-Louis, France and Trezart, Belgium
Subvention : Flamish Governement
Duration : 35 min.
Date creation of the performance : 2012
Artistic genre : dance in nature
Première France: Chalon dans la Rue IN 2013