Film Two sink, three float op Festival
Filed in Film @nl | Posted by Satya on januari 20, 2011
---
DANS FILM FESTIVALS
Mostra Itinerante MIVSC
8 november 2014
Sao Carlos – Brasilië
– EXPOSITIE 'Out of Balance'
Opening 5 november 2014
Destelheide, België
Best Dance Short Coveted Coyote Award
18 juli 2014
Topanga CA, USA
Universidade Federal de Sao Carlos – UFSCar
17 – 19 juli 2014
Brasilië
–Festival DANCE@30FPS bij Ohio State University
20 Maart 2014
Ohio, USA
– Ikono Pool (video) dance special
Berlijn, Duitsland
19 oktober 2013
– Tenth Annual Sans Souci Festival of Dance Cinema
Colorado, USA
20 en 21 September, 4 december 2013
–Dance for Camera programma van DANCE:FILM 11 op dance festival
Leicester, Engeland
19 mei 2013
-12de Dance Camera West Dance Media Film Festival,
 Los Angeles, Californië
2 t.e.m. 5 mei, 2013
– World Arts Film Festival in het Museum of Contemporary Art
Jacksonville, FLORIDA
11-13 april, 2013
–The European Independent Film Festival
 Action Christine, 4 Rue Christine  75006 Parijs
zondag 31 maart  10:00 – 14:00
– 20th Quinzena de Dança de Almada – Contemporary Dance Festival
Almada, Portugal
22 september en 5 oktober, 2012
– REELDANCE presenteert Dance on Screen
Carriageworks, Sydney, Australië
16 augustus 2012
– Festival International de Vidéo Danse de Bourgogne
Cinéma Le Morvan au Creusot, Bourgogne, Frankrijk
11 mei 2012 om 20h30
– Festival Conderdance – inextricably linked – Tempe Center for the Arts
700 West Rio Salado Parkway , Tempe, Arizona, USA
14 april 2012
– Festival International du Film sur l'Art (FIFA) Québec, Canada
24 maart 2012
–LOIKKA dance film festival, Helsinki, Finland
24 ,25 maart 2012
– 2012 San Francisco Dance Film Festival, San Francisco, USA
– 17 maart 2012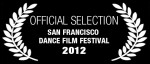 Bogotá, Colombia
24 en 25 november 2011
Edinburg, Schotland, UK
19 november 2011
Eden, Berlijn, Duitsland
Van 15 tot 17 september  2011
Satya Roosens maakt sinds enkele jaren buitenvoorstellingen met vooral beweging als medium voor een creatie.
Sinds 2010 bestaat Studio Eclipse vzw om voorstellingen zoals deze te produceren.
In 2009/2010 werd de voorstelling 'Two sink, three float' gecreëerd, waarbij in open water, creaturen bewegen en leven. Dit wordt vanop de kant aanschouwd. Vanuit dit concept is het idee ontstaan een ander perspectief te geven van wat er zich tijdens zo'n voorstelling afspeeld onder water en dus niet zichtbaar is vanop de kant. Hieruit is de kortfilm 'Two sink, three float' ontstaan. Deze kan op filmfestivals gespeeld worden of aansluiten bij de voorstelling.
Concept:
Satya Roosens
Dansers:
Mirte Courtens, Simon Thomas-Train, Satya Roosens
Muziek:
Giovanni di Domenico
Scènografie:
Kurt Demey
Constructie platform:
Colin Kassies
Kostuums:
Rosalie Spruijt
Camera onderwater :
Frans De Backer
Montage:
Tom Syryn
Sponsor:
Swa Desmet Aquasport Deurne
Met hulp van:
Geert Mangelschots TREZART, Recreatiedomein Zilvermeer
Met dank aan:
Kurt Demey, Sil van der Woerd en Fabien Gruau